More than 150 years after the completion of the transcontinental railroad, rail remains a bedrock of the American economy. Each year, the men and women who operate and maintain our nation's rail system collectively move 1.6 billion tons of freight and more than 30 million people throughout all corners of our country.
As impressive as these figures are, they mean nothing if those who work on the frontlines of our railroads, and the communities through which trains travel, are not safe. While much has been done over the years to improve rail safety, recent decisions by the FRA and renewed pressure from Wall Street threaten the safety of our rail network.
That's why, later this week, a number of rail unions, including many TTD affiliates, will testify before Congress, highlighting some of the most pressing safety issues this industry faces today, and offering commonsense solutions to these challenges. Among those standing up for rail safety include SMART-Transportation Division, the Brotherhood of Railroad Signalmen, the Machinists Union District Lodge 19 and Transportation Communications Union.
We'll be there live tweeting the event (follow us at @TTDAFLCIO) and wanted to share this preview of the most pressing rail safety issues that will be discussed: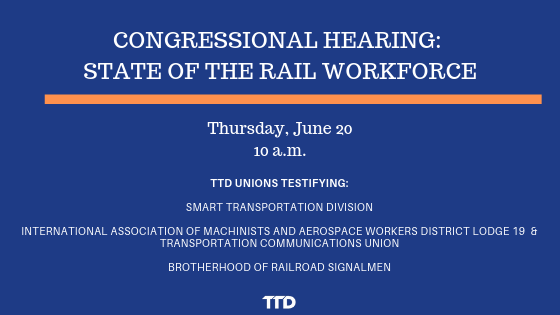 Train Crew Size
Operating a two-mile-long freight train carrying hazardous materials is a complex task that requires precision, specialized training, and the kind of careful attention to detail only two qualified crewmembers can provide. Despite this, the FRA recently chose to put profits over safety by failing to regulate train crew size and, outrageously, barred states from setting their own rules on train crew size.  Rail unions will now call on Congress to put safety first by passing federal legislation requiring a certified conductor and engineer on freight trains.
Precision Railroading
The unions testifying will raise serious concerns about a business model taking hold in the rail industry that prioritizes profits for Wall Street investors above anything else – including safety. As more Class I railroads transition to so-called precision railroading, trains are getting longer, schedules are getting tighter, and workforces are being slashed. Frontline rail workers report being overworked, stressed out, and even scared to speak out. Some are now required to perform double and triple their regular workloads while others say they feel pressure to meet strict deadlines no matter the cost. One Machinist Union member reported having mere seconds to perform a safety-sensitive inspection. Rail workers and their unions will call for greater government oversight and a crackdown on unchecked corporate greed.
Mexican Trains Operating in the U.S.
Last year, the Federal Railroad Administration granted the freight carrier Kansas City Southern Railway (KCSR) permission to operate trains with crews from Mexico to Laredo, nine miles across the border. This misguided decision was made without input from the public and does not ensure U.S. safety standards are being met. In fact, current regulations allow these foreign crews operating in the U.S. to avoid random drug and alcohol testing, and there is no proof crews from Mexico are meeting the same certification and training requirements as American crews. Rail unions will again urge the FRA to uphold its commitment to cross-border rail safety and security, and will call on Congress to stop this unsafe practice. Similarly, they will call on lawmakers to halt efforts by railroads to skirt the law in order to outsource safety-critical brake inspections and carmen jobs to Mexico.
Positive Train Control
The Committee will also hear testimony that workers responsible for installing, monitoring, and maintaining Positive Train Control (PTC) have not received the training they need to adequately perform their jobs. A recent internal survey to members of the Brotherhood of Railroad Signalmen (BRS) found that only 73 percent of members received some PTC training from Class I railroads. More telling, of those who received training, only 21 percent believed their training was sufficient. For BRS members working at smaller railroads, those figures drop even further. As a union that has prioritized safety for its members and the traveling public, BRS will seek an active role in developing and executing PTC training for its members.
Fatigue and Hours of Service Rules
Thanks to unpredictable work schedules and around-the-clock operations, chronic fatigue remains one of the most pressing and well-documented safety challenges facing the rail industry today. Current law mandates that rail employees cannot work more than 12 consecutive hours and must receive 10 hours of undistributed rest immediately following their last shift. Rail unions will continue to call on Congress to require rail employees be given 10 hours' notice before their next shift to ensure workers have reliable information about when they are to report for duty and can rest accordingly.
Assaults on Rail Workers
Too often, passenger and commuter rail employees are assaulted by the customers they serve, and rail labor unions will once again call on Congress to take action. Since 2017, transportation labor has advocated for legislation that would set national standards for preventing and responding to violence against onboard passenger crew members. Rail workers and their unions will push for legislation requiring passenger and commuter rail carriers to develop, in conjunction with their employee unions, comprehensive assault prevention and response plans.