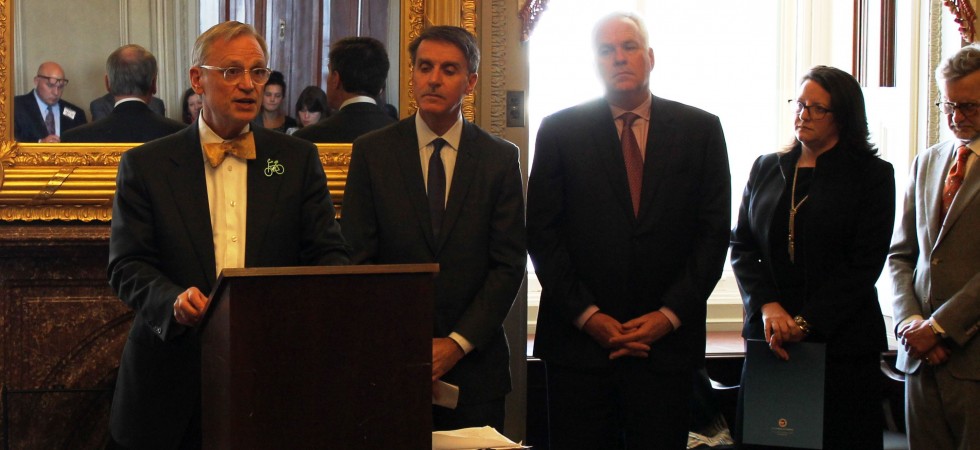 Historically, our nation's transportation system has supported peerless economic growth and a strong market for goods and services, all while creating and sustaining millions of middle class jobs. In past years, however, insufficient funding has left our transportation system to languish, so that our mass transit system careens from one budget crisis to the next and our bridges and highways literally crumble.
Rather than addressing this crisis, members of Congress have repeatedly balked at finding long-term funding solutions to a Highway Trust Fund facing insolvency. It has now been more than two decades since the gas tax, which finances the Highway Trust Fund, was raised.
Today Rep. Earl Blumenauer (D-OR) introduced a bill that would rectify this problem and allow us to once again build and maintain a transit and highway network that works for everyone. Rep. Blumenauer's bill would raise the gas tax five cents per year for the next three years, putting us back on track for a solvent Trust Fund. This bill comes on the heels of encouraging signs of a thaw in Washington about considering a fuel tax hike.
TTD's president, Ed Wytkind, spoke today at a press conference with Rep. Blumenauer in support of the bill. "Members of Congress across the political spectrum are beginning to realize that something has to be done – and soon. Meeting the challenge will be difficult, but this bill – and Congressman Blumenauer's unwavering commitment to get something done – provides the impetus for getting out of this mess," Wytkind said.
"While it seems as if nothing in Washington these days is a no-brainer, I believe the Blumenauer bill is a no-brainer," he continued. "We rebuild our failing infrastructure; we boost the economy; we give relief to commuters who are stuck in endless gridlock; and we finally give public transit the chance to expand and modernize at a time of record demand."
TTD is proud to support this bill and to help Rep. Blumenauer repair America's surface transportation infrastructure.