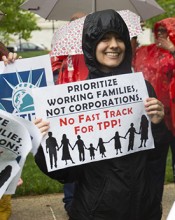 So now putting thousands of Americans at risk of more job-killing trade deals is more important than passing a surface transportation bill that puts hundreds of thousands to work? It appears for some the answer is yes.
Of course, for the rest of us that is an absurd proposition. Congress should not even take up the undemocratic Fast Track legislation, which would clear the way for action on the corporate lobbyist-written Trans Pacific Partnership, or TPP. And if lawmakers move ahead with the trade bill they should defeat it.
Of course, this is Washington – a place where most good jobs bills go to die and trade bills that threaten American jobs are revered.
We take exception to the comments of Transportation Secretary Anthony Foxx who said we should "clear the decks" on Fast Track legislation and then focus on transportation. This is a strong departure from the Secretary's previous comments when he said about the surface transportation bill: "no more delays, no more gimmicks, no more short-term patches or Band-Aids."
We agree with the latter: no more delays in expanding and modernizing our transit systems, highways and bridges. And Fast Track legislation should be thrown to the scrapheap.