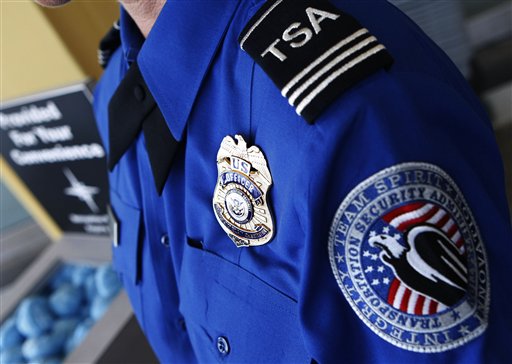 Imagine facing the responsibility of helping keep an industry safe from terrorism and other threats, while knowing you are not covered by workforce protections that would make it easier to fulfill your security mission.
For our nation's Transportation Security Officers (TSOs), that isn't just some made-up scenario. It's real life.
TSOs, the men and women who screen passengers at almost 450 U.S. airports, play an instrumental role in keeping air travel safe and secure for both airline passengers and other aviation employees. They collectively screen more than 1.7 million passengers daily and have stopped more than 3,000 firearms from making it on airplanes this year alone.
Despite the critical role TSOs play, their rights as federal employees are compromised thanks to a loophole in the Aviation and Transportation Security Act. A gap in the law means TSOs are denied basic rights and protections afforded to nearly all other federal employees, including intelligence officers and TSA managers. Unlike many of their colleagues, TSOs lack basic arbitration rights and are subject to pay-for-performance schemes that set inconsistent standards.
Not only is this double standard blatantly unfair, it has created a workplace with low morale and high employee turnover. Too many qualified and experienced TSOs are leaving the agency to avoid being treated like second-class employees. As a result, security and efficiency of operations have suffered.  Recognizing this reality, TTD unions that represent pilots, flight attendants, mechanics and other aviation employees that depend on a secure and efficient screening process have repeatedly called for TSOs to be afforded these most basic rights.
AFGE National President J. David Cox Sr. was right when he said, "TSA officers ensure air travelers reach their destinations safely. It's outrageous they lack these workplace rights despite shouldering this heavy responsibility."
Given their crucial public safety role, our nation's TSOs clearly deserve better.
That's why we applaud Senator Brian Schatz (HI) for introducing legislation that would right these wrongs, and thank Senators Sherrod Brown (OH), Elizabeth Warren (MA), Al Franken (MN), Jeff Merkley (OR), Gary Peters (MI), John Tester (MT) and Martin Heinrich (NM) for cosponsoring this bill and joining this fight. The Strengthening American Transportation Security Act of 2016 (SATSA), which was introduced earlier this month, is designed to improve passenger safety and ensure fairness and stability for our nation's TSOs. This legislation would place TSOs, like other federal employees, on the General Schedule pay scale and provide them with coverage under the Family Medical Leave Act and the Fair Labor Standards Act.  There is simply no reason that TSOs should be denied these rights. Improving their jobs will only raise efficiency and security at our airports.
In the House of Representatives, Bennie Thompson (MS), the lead Democrat on the Homeland Security Committee and Nita Lowey (NY), the lead Democrat on the Appropriations Committee, have introduced similar legislation. The bill has attracted more than 70 cosponsors — proof that many of our elected leaders are paying attention and agree that the double standards applied to TSOs need to be corrected.
The busy holiday travel season is the perfect reminder of everything this critical workforce does to keep us safe. When Congress returns next year, we will continue to push these common-sense bills and fight to ensure TSOs have the protections and fairness they need to do their jobs.