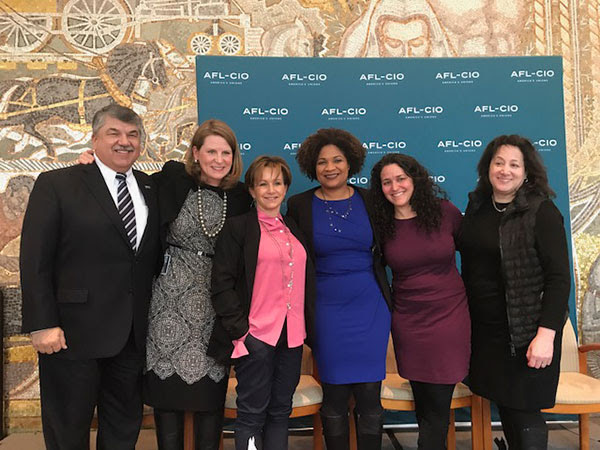 I was proud to join labor leaders earlier this week at the AFL-CIO's leadership summit Addressing Sexual Harassment in the Workplace: There is Power in my Union. Survivors of workplace sexual harassment are taking back power by sharing their stories. The movement they have started is shaping national conversation and forcing Americans to confront and address a problem that, for too long, has been swept under the rug.
But as leaders and panelists of the AFL-CIO's summit point out, sexual harassment and gender-based violence doesn't just happen in Hollywood, cable network newsrooms, or Silicon Valley. This widespread problem permeates all occupations and industries, and too many of those affected still feel powerless to come forward and demand change.
Low-wage workers, night shifters, and women who work in traditionally male-dominated fields are especially affected. So are women in transportation industries. Flight attendants frequently experience unwanted touching, sexual comments, and assault on the job, as do female truck drivers. Other transportation workers vulnerable to physical assault, including transit drivers and customer service agents, are also victims of sexual harassment and gender-based discrimination. These stories, and stories told during this week's summit remind us just how far we have to go to combat workplace sexual harassment, assault and abuse.
Ensuring everyone who works for a living isn't risking their safety or dignity just to put food on the table starts with fully understanding the breadth of the problem. Enacting meaningful change will require passing new laws, holding employers accountable, protecting whistleblowers, and altering the cultural values that have allowed abhorrent behavior to exist for so long.
The labor movement is uniquely positioned to take a leading role in this fight. By empowering women and enabling working people to come together to negotiate terms and conditions of employment and advocating for policy solutions that impact all workers, unions have the ability to fight sexual harassment, prevent it from happening and stop it if and when it does happen.
But truly achieving progress and making change also means the labor movement must come to terms with its own history of perpetuating a culture that enabled the disenfranchisement of female workers. As AFL-CIO Secretary-Treasurer Liz Shuler said, "Now, more than ever, the labor movement needs to take a look at itself and make the changes needed in our own structure. If we aspire to values of unity and democracy, then our leadership must reflect the rich diversity of union membership nationwide."
Change starts with conversations like the one held earlier this week in the house of labor. Liz, along with AFL-CIO President Rich Trumka, should be applauded for convening and leading such an important discussion, and creating a space where working people can share stories and come together to develop solutions.
There is no denying we are at a pivotal moment in history. The #MeToo movement started with women who bravely shared their stories of workplace harassment and violence, but it cannot end there. Enacting change will require dedication, determination, grit, and solidarity. Transportation labor is committed to standing with our sisters and brothers in all trades to ensure every single person who works for a living is safe and free from demeaning behavior and abuse while on the job.