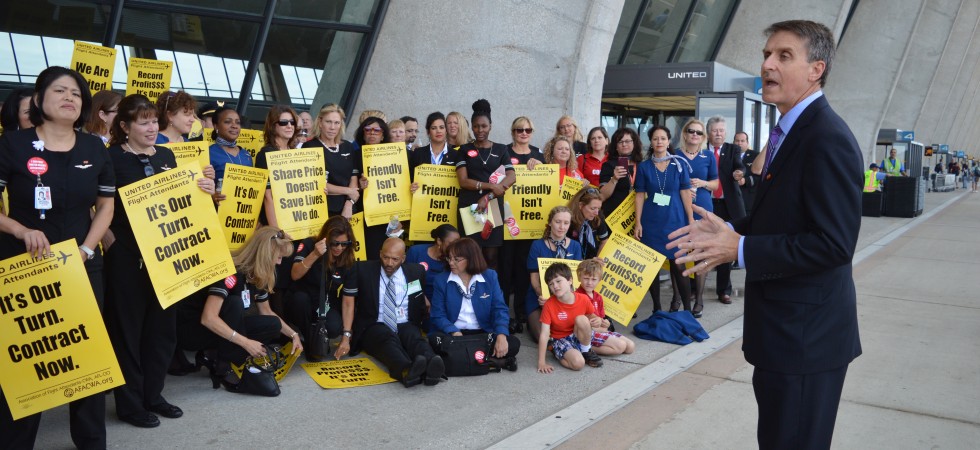 Thousands of flight attendants at United Airlines hubs across the globe are standing up to say enough is enough — and we stand with them.
Yesterday, the Joint Negotiating Committee of AFA-CWA flight attendants held an International Day of Action to draw attention to the absurd refusal by United to bargain in good faith with its employees. Ed Wytkind, President of the Transportation Trades Department, AFL-CIO, joined flight attendants at Dulles International Airport, where he made a declaration of solidarity:
"United Airlines needs to invest in the workers who help make this company profitable and successful. Until management understands that and flight attendants at United secure a fair contract, I'll be standing with you fighting for what's right."
United Airlines, which merged with Continental in 2010, is one of the largest airlines in the world. It's also one of the most profitable. The company's 2015 income will be five times higher than its income in 2013, and the company's CEO, Jeff Smisek, recently enjoyed a 32-percent pay increase.
Despite these incredible figures, Smisek refuses to make good on a five-year-old promise to complete joint contracts with all workers by the end of 2011. Instead of fairly compensating employees — who have undoubtedly contributed to the company's success — Smisek further insulted workers by recently announcing a $100 million investment in a Brazilian airline.
Meanwhile, United's 24,000 flight attendants are still waiting for a fair contract that reflects the professionalism and pride they bring to their jobs daily.
"The bottom line problem is the company's unwillingness to put the required economic resources into a Flight Attendant Contract," AFA-CWA President Sara Nelson said. "That is unacceptable and we are going to stand up to make it clear to the company that we expect much more, especially now as United's profits are soaring."