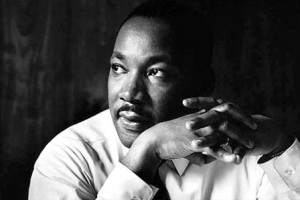 By recognizing social and economic justice as one and the same, Dr. Martin Luther King, Jr. understood the immense power working people have when they come together. He saw union representation as the clearest path out of poverty and into the middle class, and fought for the rights of all people to have good jobs and a voice at work.
Those beliefs led King to Memphis, Tennessee in the spring of 1968 where 1,300 sanitation workers were on strike fighting deplorable working conditions, poverty-level wages, and overt racism. Determined to improve their quality of life and build a better future for themselves, their families and their community, these workers demanded recognition of their union – and their humanity. Seeking the freedom to negotiate together for fair wages and dignity and respect on the job, they marched with now iconic signs that read, "I am a man."
It was here, expressing solidarity with the striking workers and drawing parallels between social, racial and economic justice, that King was assassinated as he stood on the balcony of the Lorraine Motel.
As our nation pauses to reflect upon the 50th anniversary of King's tragic and untimely passing, we must do more than just commemorate past events. The anniversary of King's death must be a call to carry his legacy forward, and continue working toward his dream of a more fair and just society.
While progress has been made in the last half century, it is clear more work needs to be done. The same backwards forces that sought to silence sanitation workers in Memphis five decades ago continue to attack the rights of working people across this country today. We see it in aggressive efforts to establish statewide right-to-work laws in places like Missouri, West Virginia, and Wisconsin. We see it in efforts to gut safety protections for transportation workers and outsource good jobs to the lowest bidder. And we see it in the corporate-backed push to strip public employees of their rights via the Supreme Court Case Janus v. AFSCME.
Indeed, the same struggles King fought and died for — including access to good jobs, fair pay, and safe working conditions — are the same struggles working people are fighting for today.
Those struggles – combined with the teachings of Dr. King and the bravery and sacrifice of Memphis sanitation workers – have inspired our brothers and sisters at AFSCME and the Church of God in Christ to carry King's legacy forward with the I AM 2018 initiative. Through this campaign, a new generation of activists will be mobilized. Voters will be trained on how to hold elected leaders accountable. And the freedom of all working people to join together to make life better for themselves, their families, and their communities will be advanced.
Transportation labor is proud to stand with those who have pledged to honor Dr. King's life and dream by committing to carrying his legacy into the future. Today we also recommit our efforts to ensure Dr. King's legacy lives on by fighting for policies that empower working people to join together in union. It is through our collective efforts that misery and despair will be transformed into hope and progress.