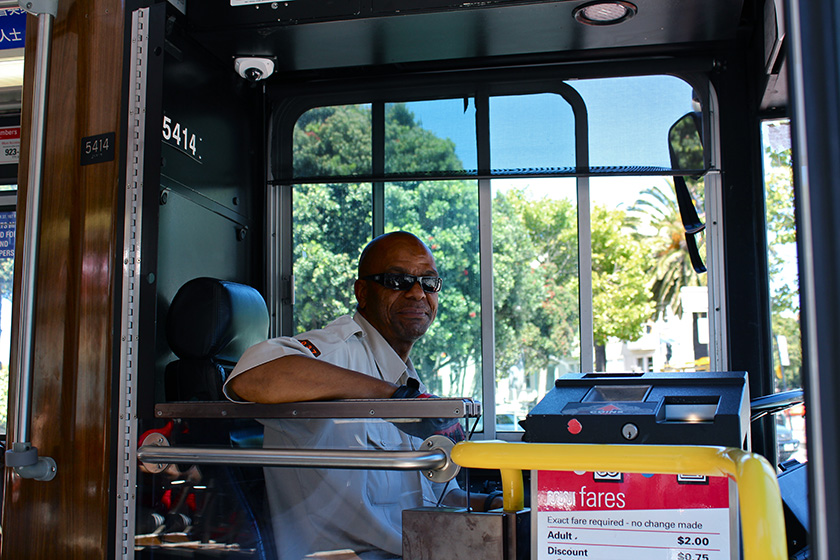 Every three days a bus driver in America is assaulted. Led by our transit unions, we are trying to do something about it.  TTD joined transit union leaders to send a letter last week urging the Department of Transportation (DOT) and the Federal Transit Administration (FTA) to issue new rules that better protect bus drivers and transit operators from workplace violence.
The Obama Administration is well aware of the rising occurrence of violence against transit drivers. In fact, in 2014, the DOT and FTA hosted a summit that brought together transit agencies, unions, academics, law enforcement officials and drivers who had been assaulted to shine a spotlight on this disturbing trend. The consensus? There are a number of things that can and should be done to help prevent these terrifying incidents.
The good news is solutions that can help curb this problem do exist. They include partitions that separate drivers from passengers, left-side exit doors that allow drivers to easily escape if they are attacked and the increased presence of uniformed police officers on buses. Many unions and some local transit agencies have worked together to address transit driver assault by using these and other strategies, but localized efforts alone are not enough. There need to be uniform, national standards in place to better protect drivers from assaults. Hoping that conditions improve from city to city will not get it done.
That's why transit unions pushed lawmakers to put an end to the patchwork safety system, and in 2015, Congress passed a law requiring the FTA to issue rules designed to prevent assaults on transit workers. Now FTA must act quickly to implement these new protections – bus drivers and transit riders can't wait any longer for safer and more secure rides. Waiting to act until a new Administration takes over next year will only expose transit workers and riders to months, if not years, of more delay in acting to curb these assaults.
Just ask Diane Rude, a 24-year veteran bus driver in Minneapolis and ATU member, who was held hostage for an hour when a passenger hijacked her bus and tried to strangle her with a scarf.
Or Columbus, Ohio bus driver and TWU member Luddie Hatten who was assaulted by a passenger while his bus was in transit. I should mention the passenger became enraged when Luddie rejected his sexual advances.
Just days ago, another bus driver from Minnesota sustained severe head injuries after he was attacked by a group of teenagers.
Shocked yet? Check out the video of this vicious assault.
These attacks represent just a fraction of the assaults occurring nationwide. And remember, not only drivers are at risk – so are passengers. Think about it. How can a bus operator be expected to protect passengers or control a moving vehicle when he or she is fending off an attacker?
For far too long, our nation's bus drivers have been subject to humiliating and sometimes life-threatening situations. They and the passengers they transport deserve far better. DOT and FTA now have the authority – supported by a bipartisan Congress – to help drive out assault, and the time to act is now.
Join the discussion on social media by using and following the hashtag #DriveOutAssault.